We are Certified By International Professional Accreditation Council (IPAC)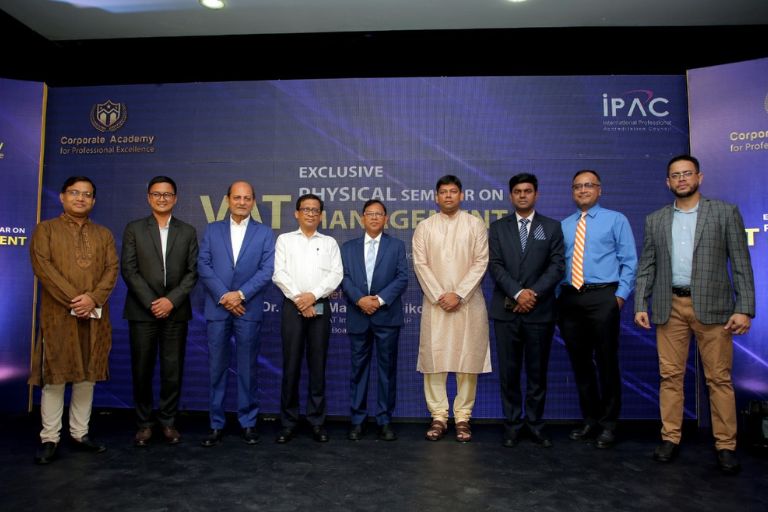 Are you planning for professional recognition and internationally certified VAT, Tax, Customs and Bond professional?
For professional excellence and maintaining harmony between employers and employees, corporate training is a must.
Short-term courses for VAT, Tax, etc. under expert mentors are really important for any professional to handle day-to-day issues in the job.
A PLATFORM FOR CONTINUOUS GROWTH WITH EXCELLENCE IN SKILL
Boost Your Professional Career by Learning Skills in High Demand
We provide the  best industry  leaders, top professionals, and expert NBR officials as our course mentors.
Trusted by Thousands of Professionals and Corporate Leaders

I was always looking for a platform which helps corporate professionals like me to grow more and also allow me to add value to professionals based on my more than 20 years of experience in the field of VAT . Surely Corporate Academy is the right platform for any professionals to enrich their skills in all aspects.
Mohammad Rafiqul Islam, Executive Director, Head of VAT Dept., WALTON Group, Headquarters
Corporate Academy is playing a very vital role for empowering the professionals on their way to excellence and I am really proud to be a member and mentor at the same time of this amazing platform. I wish Corporate Academy all the best and many more achievements in the coming years so that professionals gain more skills and become highly experts in their own arena.
Mohammad Zulfiqur Haider, GM- Audit & Internal Control, Jamuna Group of Industries​

I am highly glad to write this testimonial as Corporate Academy is really doing a fantastic job by adding tremendous value to the professionals so that they become future leaders in their respective fields. I hope Corporate Academy will keep its amazing journey continue so that professionals become more skilled and fulfilled.
Md. Zulfikar Ali, CFO, Star Adhesive Ltd. (A PARTEX Star Group Company)
I have to deal with lots of clients as advisor and sometimes had to struggle to bring the right solutions. After getting the Chattogram address, I have enrolled for VAT & CUSTOMS MANAGEMENT certificate course at Corporate Academy under correct guidance from NBR high officials, I am now highly confident to serve my clients in full fledge, I am highly grateful to CORPORATE ACADEMY for such a nice platform for professional growth.
Anik Chakraborty, Income Tax & Company Law advisor, VAT & Custom Management